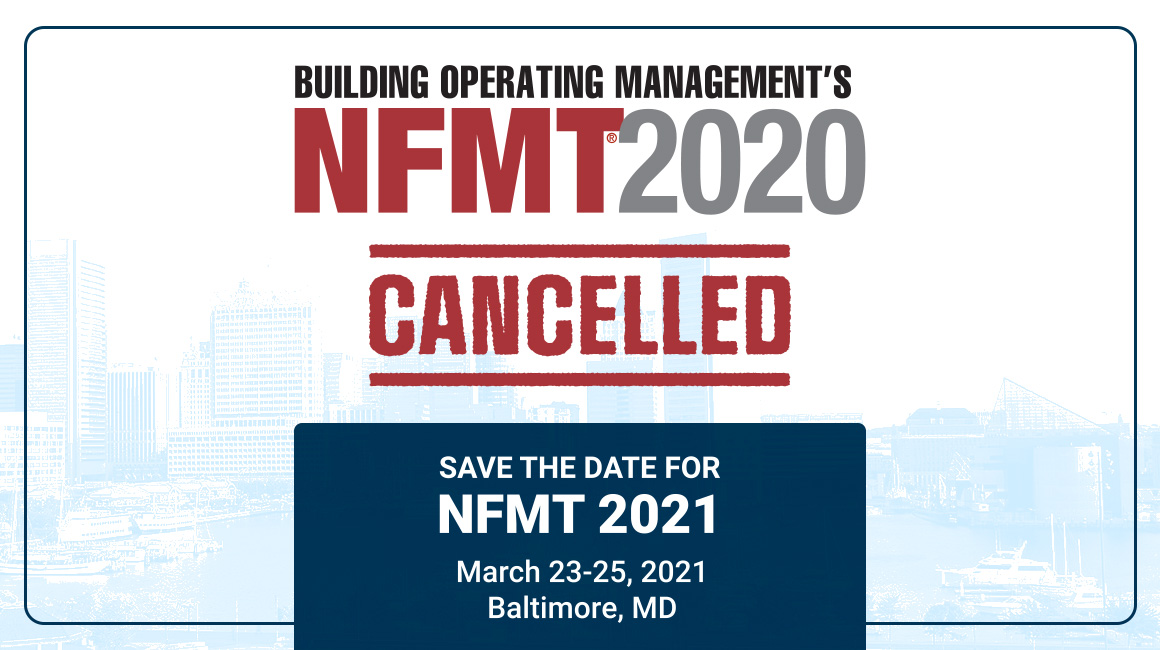 Attendee FAQs
Will the NFMT 2020 event be rescheduled?
Due to the COVID pandemic and mass gathering restrictions existing in Baltimore, NFMT 2020 is cancelled for this year. NFMT 2021 returns to the Baltimore Convention Center next year, please save the date for March 23-25, 2021.
Do I need to cancel my NFMT 2020 registration?
No, no further action is required by attendees regarding your NFMT 2020 registration.
Will I receive a refund for my registration?
NFMT is free! If you paid for an additional networking activity or workshop, you will be contacted directly regarding your payment.
How do I register for the NFMT 2021 event?
We will be excited to welcome you back to the Baltimore Convention Center next year. Registration for the 2021 event will open in the fall and we will alert you when you can register for the event.
Hotel and Travel
How do I cancel my housing reservation?
If you booked your reservation within the NFMT housing block, your hotel reservation and/or sub- block will be canceled automatically by Visit Baltimore, the official housing contractor for the event. Any deposits made will be refunded in the method they were received.
For housing questions, please contact Christina Luporini at cluporini@rocexhibitions.com or phone 630- 271-8219.
I did not make my reservation in the official housing block; how do I cancel?
If you booked your reservation outside the NFMT housing block or through a third-party housing site, you will need to cancel your reservation directly with them. NFMT is not able to assist with reservations outside our block or by third-party vendors.
Will I be refunded for any travel costs incurred?
Event Management cannot refund costs associated with travel.
Additional Resources
I am searching for FM products and services, how do I contact NFMT exhibitors before the 2021 event?
The NFMT 2020 website is still available to review vendors and products. Many of the exhibitors have added product videos to their listings. Please feel free to reach out to any of the NFMT 2020 exhibitors for additional information.
Where can I find additional resources or educational opportunities?
In addition to producing NFMT, FacilitiesNet.com is our website dedicated to providing resources for the Facilities Management industry. Here you can find articles, videos and webcasts featuring many of the same topics and presenters as NFMT.
Do you have any other live events this year?
Yes, we are currently still scheduled to hold our NFMT Vegas event at the Paris Hotel in Las Vegas October 27-28, 2020. Much like NFMT 2020 this is a free event featuring conference sessions and an expo hall. For more information please go to www.nfmt.com/vegas.
Where can I earn Continuing Education Credits?
FacilitiesNet.com hosts a library of webcasts both live and on-demand that you can earn CEUs after watching. Please go to www.facilitiesnet.com/webcasts for more information.
If you have attended NFMT in previous years and need a session transcript to present for CEU's, please contact info@rocexhibitions.com to make a request.
fnPrime (formerly NFMT Membership)
I am an fnPrime member (formerly NFMT Members), will I receive a refund for this membership?
A one-year fnPrime membership offers unlimited access to 45+ educational videos, 4 webcasts to host your own lunch and learn, and new content is available every month! With all the additional content available throughout the year we are not able to provide a refund for your fnPrime membership at this time. Please feel free to contact Amy Brown at amy.brown@tradepress.com if you have any questions regarding fnPrime membership.