About this session:
Because of the level of greenhouse gas emissions associated with commercial and institutional buildings, those buildings are crucial to efforts to mitigate climate change. And as new evidence emerges of the impact of climate change, and of the rising risks of failure to act, pressure is mounting to make buildings more energy efficient. The result is that the way buildings are designed and operated is likely to be transformed. There are many forces of changes. Cities and states are passing laws to reduce the climate impact of buildings, as well as to require buildings to be better prepared for climate-related disasters. Energy codes and green building rating systems like LEED are becoming increasingly stringent. And new ways of thinking about design and operations are taking hold. For example, net zero energy buildings offer the opportunity for major reductions in energy use, while resilience strategies are increasingly needed in the face of a rise in weather-related disasters. This information-packed session will offer facility leaders a look at the many ways that the need to act on climate change will transform building design and operations. Climate change is an issue that won't go away. This session will help facility leaders prepare for changes that are coming, both in terms of improving energy efficiency and becoming more resilient to changes in the climate.
1. Review the connection between building energy consumption and climate change.
2. Learn about changes in codes and standards intended to drive energy efficiency.
3. Understand emerging strategies for making dramatic reductions in building energy consumption.
4. Find out about new laws and possible future measures to reduce the climate impact of buildings.
Start Time:
8/12/2020 9:15:00 AM
End Time:
8/12/2020 10:15:00 AM
Presented by: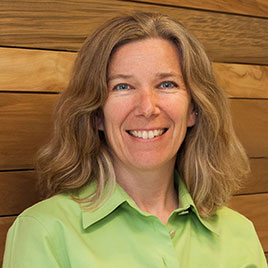 Elizabeth Beardsley
Senior Policy Counsel
U.S. Green Building Council
Session ID:
W2.14
Room Number:
314
Audience:
Intermediate
CEU:
0.1
Track:
Disruption in Facilities Management