Facilities Management Conference Agenda at NFMT 2018
NFMT's conference is beyond compare. Offering more than 125 sessions on dozens of key topics, you're guaranteed to learn something new—and come away inspired. Whether you're new to the industry or a 20+ year veteran, the education provided over NFMT's three days can expand the skillset you can apply to your building, your staff and your own career.
This year, NFMT is proud to partner with the Smart Building Innovations Conference—and event focused on managing intelligent, efficiency, occupant-friendly facilities.
View All SBIC 2018 Sessions
This is the 2018 schedule. The 2019 schedule will be available in November 2018.
Monday, March 19
CEUs
Earn CEUs for every session you participate in at NFMT 2018. Approximately 10 days after the conclusion of NFMT 2018 all verified attendees will receive an email with a link to assessment questions for every session you were scanned at during NFMT 2018. After successfully answering four true/false questions you will receive a transcript with the CEUs earned. That transcript can be used to self-report to any licensing body or association needed. NFMT provides attendees CEUs for no additional charge.
Trade Press Media Group (NFMT) is accredited by the International Association for Continuing Education and Training (IACET). TPMG complies with the ANSI/IACET Standard, which is recognized internationally as a standard of excellence in instructional practices. As a result of this accreditation, Trade Press Media Group (NFMT) is accredited to issue the IACET CEU.
Trade Press Media Group (NFMT) is authorized by IACET to offer 0.1 CEUs for each conference session.
Verify our IACET Accreditation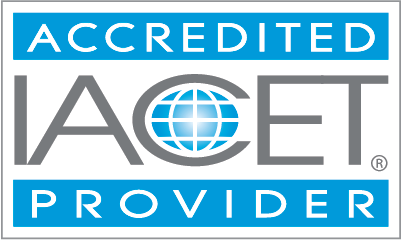 Looking for transcripts for previous NFMT programs in Baltimore?
Prerequisites
There are no prerequisites for this program. Anyone is allowed to register and attend.
Satisfactory Requirements for CEU:
The following requirements are mandatory to receive the IACET CEUs offered:
You must be scanned into the session.
You must be present for over 90% of the conference session.
You must correctly answer at least 70% of the learning outcome assessment questions which will be administered online after the conference concludes.
Statement of Nondiscrimination
Trade Press Media Group is committed to providing an educational opportunity for all persons and admits students of any race, color, gender, sexual preference, age, non-disqualifying handicap, religion or creed, or national or ethnic origin.
Privacy Policy
Trade Press Media Group, Inc. is dedicated to protecting the privacy of all educational program participants. Unless otherwise stated, we only use the information provided to process and track participant's educational programs, provide appropriate support, and maintain learning records. We have safeguards in place to protect the privacy of this information.
Transcript
You will receive a transcript for the CEUs earned after you successfully complete the assessment. This transcript can be used to self-report to any organization necessary, it is up to the organization to accept or not. If you need to request transcript after the event please use this form.
For Speakers
NFMT 2018 Speaker Details
Congratulations on being selected as a NFMT 2018 Speaker! Please review the following information
March 20-22, 2018
NFMT 2018 at the Baltimore Convention Center
Check in at least 30 minutes prior to your session in Room 336.
---
QUESTIONS?
If you have any questions or would like additional information on becoming a speaker please contact Amy Brown, 414-228-7701 ext 458 or amy.brown@tradepress.com.
---
NFMT Speaker Marketing Toolkit
We are very excited to have you participating as a speaker at the upcoming NFMT 2018 event. Below are a few items we have put together to help you get the word out that you'll be speaking at the largest facilities management conference in the United States.
Downloadable Graphics
Share your news with everyone, use the images below in a number of different places.
E-mail Signature Block
Company Website
Social Media Profiles
E-newsletters or blogs
E-mail Marketing
Download the images below, and make sure to hyperlink the images to www.nfmt.com/baltimore or your specific session page on the website.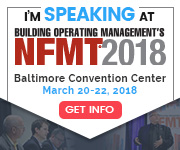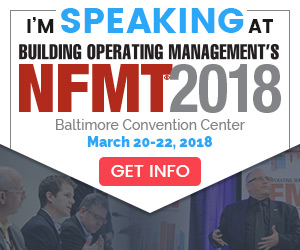 Logo

Social Media Posts
Make sure to follow our social media pages so you can share our posts.
Hashtag #NFMT18
We know you have so much reach into the industry so we'd love you to post about your session to make sure your followers are aware. Make sure to use the hashtag #NFMT18 so we can share your posts as well.
Promote Your Session:
Promote Your Topic:
Before #NFMT18, learn more about my session topic ______________ here (click related article or blog).
You won't want to miss my free session on ____________ at #NFMT18. What are your greatest challenges around ____________?
FMs, do you need help with _______________? Attend my session at #NFMT18 in Baltimore for free March 20 – 22.
Share Links on Websites:
Don't miss my session "____________________" at NFMT 2018! Visit NFMT.com/Baltimore to register for free.
Visit NFMT.com/Baltimore to learn more about a completely free facilities management conference I will be speaking at in March.
Event listing and e-newsletters
Get the word out about your involvement through your company's website as well as in their newsletter!
Newsletter Blurb:
The National Facilities Management and Technology (NFMT) Conference and Expo is the largest event dedicated to facilities management in the United States. More than 500 exhibitors and 5,000 attendees will convene in Baltimore this March. Registration is free! Learn more at www.nfmt.com/baltimore.
Event Listing
NFMT 2018
March 20 – 22
Baltimore Convention Center
Baltimore, MD
www.nfmt.com/baltimore
Email Marketing
We have created tailored landing pages for you to promote your session. Via our vendor, Feathr, we created unique speaker landing pages, emails and digital ads. You can use these tools for email campaigns or social media. The materials will be sent to each speaker directly from Feathr.
Questions
Amy Brown
Director of Education
414-228-7701 ext 458
amy.brown@tradepress.com
Todd Fabos
Product Marketing Manager
414-228-7701 ext 448
todd.fabos@tradepress.com