NFMT 2019 Speaker Profile
Mohamad Jamal, P.E. MBA, CxA
President and Chief Mechanical Engineer,
A.J. Adam Engineering, LLC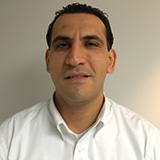 Mr. Jamal is a professional engineer registered in multiple states who has presented multiple times at NFMT. He has extensive experience in the design of heating, ventilation, air conditioning, fire safety and plumbing systems, including new construction and renovations to a vast number of projects. He holds a Bachelor's degree in Architectural Engineering from Drexel University and a MBA from Loyola University - Maryland. Serving as Chief Mechanical Engineer for A.J. Adam Engineering LLC, Mr. Jamal is responsible for overseeing all design projects, commissioning projects, and engineering studies for the company.
View All Presenters
A big thank you to our
2019 Sponsors & Partners.
Click here to learn how you can become a sponsor today.
---
Platinum Sponsors
Gold Sponsors
Silver Sponsors
Partners