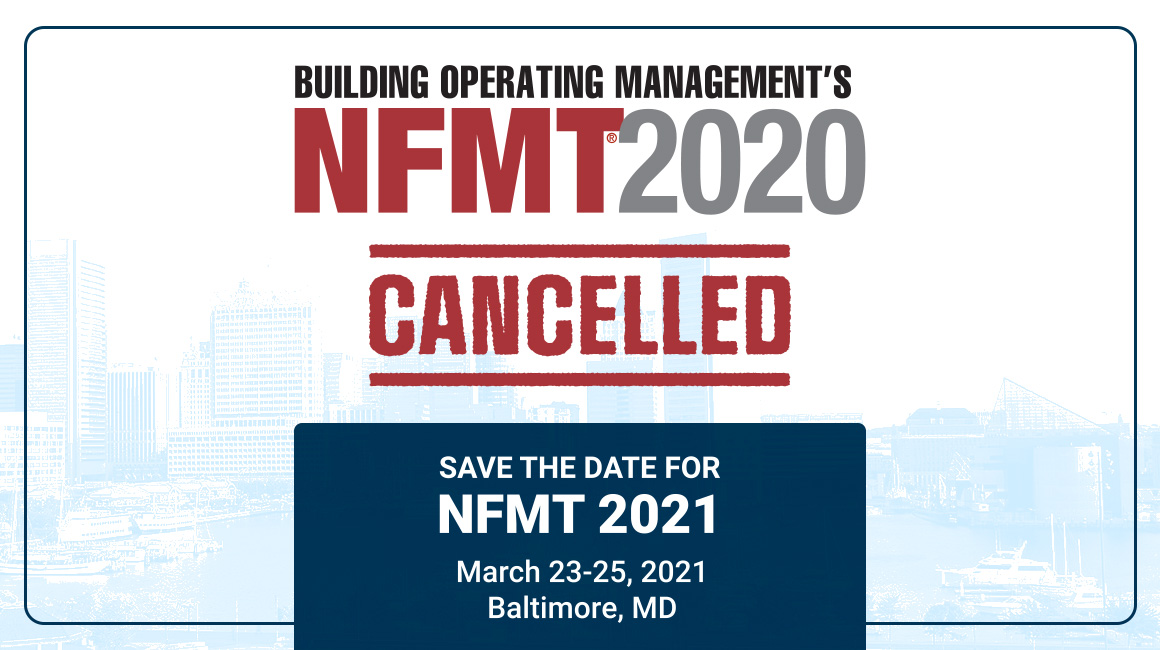 Exhibitor FAQs
Will NFMT be held later in 2020?
Due to the COVID pandemic and mass gathering restrictions existing in Baltimore, NFMT 2020 is cancelled for this year. NFMT 2021 returns to the Baltimore Convention Center next year, please save the date for March 23-25, 2021.
Will exhibit booth fees be credited to 2021 or is there an option for a refund?
The following options are available for 2020 booth payments:
1. NFMT will credit 100% of your 2020 booth payment to the 2021 NFMT event.
Your company will be able to keep their 2020 booth space for 2021.
You lock in the 2020 booth space fee for 2021.
Your company will earn priority points for 2020.
NFMT will continue to market your company through the 2021 event.
2. Exhibitors may request a refund. In accordance with #20 of the exhibit space contract, and will receive a percentage of their paid booth fees.
If I request a refund, how much money will I receive back?
A statement will be E-mailed out to each exhibitor detailing their options the week of June 29, 2020. The E-mail will be sent to the main point of contact from the exhibit space contract.
What is the deadline to request a refund?
Refunds should be requested no later than 7/23/20. To request a refund, please contact your Account Executive (see below). Any company that does not request a refund by the end of the day on 7/23/20, your 2020 funds will be forwarded to NFMT 2021.
Will our sponsorship, advertising and marketing opportunities be secured for 2021?
Yes, all sponsorships, advertising and marketing opportunities contracted for will be forwarded to 2021. 100% of your 2020 sponsorship, advertising or marketing payment will be credited to 2021. Closer to the 2021 event, we will contact you to discuss all the deliverables.
We want to participate in 2021. Will you send me a confirmation of our 2021 booth space and invoice showing it is paid in full?
Yes, anyone taking advantage of forwarding 100% of their funds and securing their space for 2021 will receive a confirmation in August, along with an invoice showing the 100% credit from 2020 and a 2021 contract addendum.
What if I would like a different booth location for 2021?
After 7/23/20, we will process all of the companies that requested a refund and make their booth space available. We will send a 2021 floor plan to all exhibitors and give them the opportunity to select a different booth location before we market to other exhibitor prospects.
Who do I need to call from the NFMT team?
Accounts are assigned by company name. To call, dial 414-228-7701 and then enter their extension.
B and Numeric
Laurie Vega,
Facilities Group Publisher
x482
laurie.vega@tradepress.com
C, D, L–O
Torry Rowell,
National Account Executive
x477
torry.rowell@tradepress.com
A, E–K
Jane Stein,
National Account Executive
x449
jane.stein@tradepress.com
P–Z
Debbie Hanamann,
Senior National Account Executive
x305
debbie.hanamann@tradepress.com
I booked a hotel room for August, what should I do?
If you booked your reservation within the NFMT housing block, your hotel reservation and/or sub-block will be canceled automatically by Visit Baltimore, the official housing contractor for the event. Any deposits you made will be refunded in the method they were received.
If you booked your reservation outside the NFMT housing block or through a third-party housing site, you will need to cancel your reservation directly with them. NFMT is not able to assist with reservations outside our block or by third-party vendors.
I ordered services from various official NFMT contractors do I need to cancel my orders?
Audio Visual One:
Any A/V orders placed will be forwarded to NFMT 2021. If you will not be exhibiting in NFMT 2021, please contact Audio Visual One to cancel your order and request a refund.
All Convention Cleaners:
ACC will cancel all exhibitor cleaning orders the week of 6/22/20 and issue refunds for deposits in the method they were received.
Centerplate:
Centerplate will be reaching out directly to any exhibitors with food and beverage orders.
CompuSystems:
The week of 6/29/20, Compusystems will cancel all lead retrieval orders and process refunds less a $100 cancellation fee (per their contract). If you have any questions regarding lead retrieval, please contact Bernice Vargas - bvargas@rocexhibitions.com
Edlen:
All electrical and plumbing orders will be cancelled the week of 6/22/20 and Edlen will be issuing refunds for deposits in the method they were received.
MC Dean:
MC Dean will be cancelling all exhibitor telephone and internet orders the week of 6/22/20. Any deposits that were made were credited back in March when NFMT was postponed.
Freeman:
Freeman will cancel all exhibitor orders the week of 6/22/20. You will receive a final invoice showing any applicable credits and/or charges. Click here to see Freeman's cancellation policy.
If you have freight at the warehouse:
The Freeman Exhibitor Services Team will reach out to exhibitors that have freight in their warehouse starting the week of 6/22/20.
Due to a temporary scale back of operations due to the Coronavirus, Freeman's Maryland warehouse has limited hours. Currently the next dates for freight pickup will be 7/8/20-7/10/20 or 7/15/20-7/17/20 and will need to be scheduled with Freeman.
Storage fees for freight storage from March 2020 until the end of July 2020 will be covered by NFMT Management.
How soon will I see the refund for cancelled orders?
Processing time may vary based on the vendor and credit card companies. Please allow 60 days to receive your refund. Refunds will be returned in the method payment was received.
I have other questions that are not addressed, who should I call?
Click here for NFMT event management and official NFMT contractor contacts.