NFMT SPEAKER
Rick Reynolds
Vice President, Power Generation Division,
ORR Protection Systems, Inc.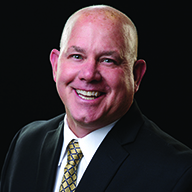 Rick's professional career has revolved around the fire protection industry for the past 24 years. The first four years of Rick's business career started as an apprentice electrician and then in 1985 he graduated to become a Master Electrician. In 1986 he stepped into the fire protection industry as first a fire alarm & suppression technician and then in 1991 Rick joined ORR Protection Systems. Rick's ability to learn quickly and strong work ethic allowed him to progress rapidly in the company. In 1991 he became ORR's Atlanta Service Manager, then in 1996 Operations Manager for the Southeast Region, and 2002 he not only landed the role of National Accounts Operations Manager, but he was personally responsible for creating our National Accounts Customer Service Department along with hiring, training and managing all our National Account Service Technicians across the country.