EXHIBITOR RESOURCES
The Exhibitor Resource section is your one stop shop for all of the forms, information and links you need to prepare for the event. We encourage you to visit the section often as new forms and information is added frequently.
Exhibitor Marketing Tools
I'm Exhibiting at NFMT Remix 2022 in Las Vegas Graphics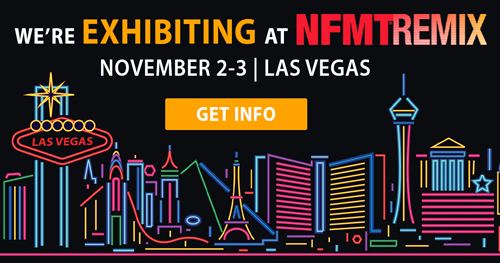 Let your customers and prospects know you will be exhibiting at NFMT!
Save the image and include it in your signature block, company website, social sites and/or newsletters.
Please link it to https://www.NFMT.com/vegas
Download Logos →
---
Exhibitor Registration, Lead Retrieval, and Invite a Customer
Exhibitor registration login details will be emailed to the main contact with link and password to the Exhibitor Dashboard within 5 days of contracting exhibit space. This communication is emailed from NFMT@compusystems.com with your password to login.
Lead retrieval services are offered through the exclusive registration provider, Compusystems. Log in to view mobile app and device options!
Invite a Customer offers an email template to send out and promote your booth at NFMT to your customers, as well as provides them with FREE Pro registration. Tracking link provides reporting on registrations.
* Exhibitor Alert *
Please be careful when contacted by a third party vendor posing or leading you to believe they are working on behalf of NFMT.

NFMT is owned by Trade Press Media and organized by ROC Exhibitions, Inc. any communication will come from them directly or from one of the Official Contractors.

The repeat offenders are housing companies and list rental companies.

If you are contacted by any company you find suspicious or you want to make sure they are an authorized vendor for NFMT, please contact us at nfmt@rocexhibitions.com.

If possible, please include any E-mail communication you received from them.

Recent Offenders: These companies do NOT work on behalf of NFMT, Trade Press or ROC Exhibitions

List rental companies: We do NOT rent the NFMT registration list. Exhibitors of NFMT will receive the list of registrants, mailing information only.

Housing Companies: We will NOT call you to make hotel reservations. The only way to book in the NFMT block is via our travel page.


CHE - Convention Housing Experts: phone numbers we have seen used 702-509-7078.
Check In Now: phone numbers we have seen used 813-522-5531, 813-793-7396, 888-808-0988. Hear a recording of their message to an exhibitor.
949.535.1600 (we do not have a company name)