SHOW SCHEDULE AT A GLANCE
8:30 AM ‐ 2:00 PM | Conference Sessions
2:15 PM ‐ 3:15 PM | General Session
3:30 PM ‐ 5:00 PM | Expo Hall Grand Opening
5:00 PM ‐ 6:00 PM | Networking Party
8:00 AM ‐ 10:15 AM | Conference Sessions
10:30 AM ‐ 3:00 PM | Expo Hall Open
3:00 PM ‐ 5:15 PM | Conference Sessions
5:30 PM ‐ 6:30 PM | Networking Activities
8:00 AM ‐ 10:15 AM | Conference Sessions
10:30 AM ‐ 2:30 PM | Expo Hall Open
2:30 PM ‐ 4:45 PM | Conference Sessions
EVENTS & ACTIVITIES
Events at NFMT 2023 in Baltimore:
Expo Hall Grand Opening
Tuesday 3:30 ‐ 5:00 pm
Your first chance to see the expo hall. Join us for drinks in the expo hall.
Networking Party
Tuesday 5:00 ‐ 6:00 pm
Join us for food and drink in the Pratt Street Lobby.
Sponsored by:



Booth #707
Women in FM Panel and Reception
Wednesday 3:00 ‐ 6:00 pm
We gather the top women in facilities management for discussion and networking.
Solutions Exchange
Wednesday 5:30 ‐ 6:30 pm
Small group discussions on topics important to facilities management over a beer.
Activities at NFMT 2023 in Baltimore:
$1,000 Cash Prize Drawing
Wednesday 3:15 pm ‐ Thursday 2:15 pm
Must be present to win.
Sponsored by:

Booth #715
Passport to Prizes
Available Everyday
Have your passport stamped at all locations for a chance to win prizes.
fnPrime Lounge
Available Everyday
all fnPrime and elite members are welcome to join us in the fnPrime lounge.
Sponsored by:



Product Zones
Available Everyday
Join us for 20-minute sessions during expo hours.
---
PRICING
Choose the Pricing Option that Best Suits You!
Popular Benefits
Basic
$0
Pro
$49
Elite
$249

*Best Value!

Non‐Buyer
$395
Access to Expo Hall
Yes
Yes
Yes
Yes
Access to Product Zone 20-minute Sessions (in the Expo Hall)
Yes
Yes
Yes
No
Access to General Sessions
No
Yes
Yes
Yes
Access to 60-minute Educational Sessions
No
Yes
Yes
Yes
Access to Think Tanks
No
Yes
Yes
Yes
Ability to earn Continuing Education Units (CEUs)
No
Yes
Yes
Yes
Access to Tuesday's Networking Party
Yes
Yes
Yes
No
Lunch Coupon
No
Yes
Yes
No
Free One-Month Trial to fnPrime
No
Yes
No
No
12-Month Membership to fnPrime ‐ Weekly Training Content, Videos and Quarterly Virtual Summits
No
No
Yes
No
fnPrime Lounge and Reception
No
No
Yes
No
Swag Bag
No
No
Yes
No
---
JUSTIFY YOUR ATTENDANCE
Click here to get templates for sending emails to your boss to help justify your attendance.
Justify Your Attendance →
---
FAQ's
Frequently Asked Questions
NFMT stands for National Facilities Management and Technology and is part of the FacilitesNet.com brand of products serving the facilities marketplace. Our other products are Building Operating Management Magazine, Facility Maintenance Decisions Magazine, fnPrime Membership, and the ProFM Credential. We have hosted NFMT events since 2001 and host a smaller regional event each fall.
You have the option of adding a 12‐month membership to fnPrime when registering for NFMT. It should also be noted that all Elite Level attendees receive a complimentary six‐month fnPrime membership. Remove extra symbols in answer below.
You can log back into your registration at any point to edit it. To log into your registration, click here (link coming soon) and enter your email and password.
Yes. After you register online, you will receive an automated email confirming your registration.
We're bringing together more than 70 facilities experts from some of the most prestigious organizations to show you how to run your facilities and properties more efficiently. You'll hear from many of the same experts that speak at IFMA, BOMA, AIA and other industry events, only without the high price of admission.
Elite level registration gives you access to all the events taking place at NFMT 2023 including the general session, all conferences sessions, product showcase sessions, access to the expo hall and all networking events. Plus, you'll receive VIP treatment onsite with a swag bag, lounge access, and lunch coupons. But your benefits aren't just for onsite ‐ you'll be granted a 12‐month membership to our fnPrime program which includes NFMT session videos, reports, quarterly virtual summits, and monthly FM huddles. All these benefits for just a $249 registration fee.
We have secured discounted rates at several area hotels. Each one is within walking distance of the Baltimore Convention Center. Please check the travel section for more details. (link to travel)
We will automatically send you show updates starting 8 weeks before NFMT. In addition, join/follow our event social pages and follow/promote the #NFMT2023 hashtag on Twitter and Instagram.
Call our customer service team at 414‐228‐7701 ext 452. We'll be happy to help you out.
---
CONTACT US
EXHIBITORS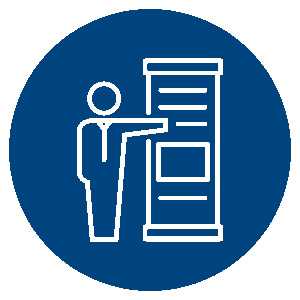 ATTENDEES & SPEAKERS